Analysing the entrepreneurial activities and attitudes
The Global Entrepreneurship Monitor (GEM) is the leading international study on entrepreneurship. It is carried out every year in more than 60 countries with a view to analysing the entrepreneurial activities and attitudes of the population over the past year.
Based on a large-scale collection of data, the GEM is able to provide high-quality information and comprehensive reports and thus considerably improve understanding of the phenomenon of entrepreneurship. Since 1999, the GEM has been a valuable resource on entrepreneurship for international organisations such as the United Nations, the World Economic Forum, the World Bank and the Organisation for Economic Cooperation and Development, providing personalised data, special reports and expert opinions.
The Swiss chapter of the GEM study is led by the School of Management Fribourg (HEG-FR) in collaboration with other colleges such as SUPSI Manno in Ticino. There are two phases to the study, with the first being data collection. This involves numerous telephone interviews and discussions with experts in order to identify entrepreneurial attitudes, activities and aspirations and the factors which could explain individual choices and the position of entrepreneurship in Switzerland. The second phase consists of analysing the data and drawing up the final report, enabling entrepreneurship trends in Switzerland to be determined and compared with other countries.
GEM Reports Switzerland
Global Entrepreneurship Monitor (GEM): 2022/2023: Policy Brief on Cultivating the Entrepreneurial Ecosystem in Switzerland
Baldegger, R., Gaudart, R., Wild, P. (2022). Global Entrepreneurship Monitor (GEM) 2022/2023: Policy Brief on Cultivating the Entrepreneurial Ecosystem in Switzerland, Fribourg: HEG-FR (HES-SO)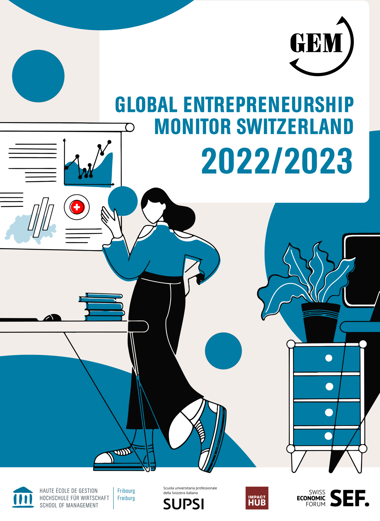 Global Entrepreneurship Monitor 2022/2023 Global Report Adapting to a "New Normal"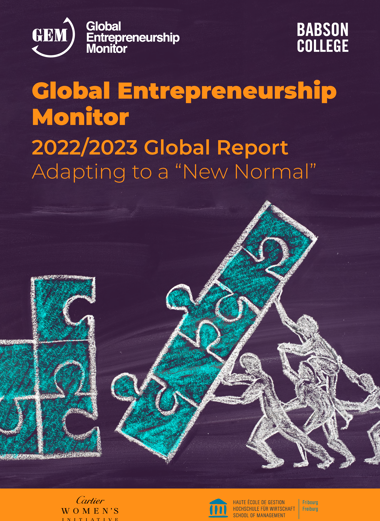 Global Entrepreneurship Monitor 2021/2022 (GEM): Report on Switzerland
Global Entrepreneurship Monitor 2020/2021 (GEM): Report on Switzerland
Global Entrepreneurship Monitor 2019-2020. Report on Switzerland
Global Entrepreneurship Monitor 2018-2019. Report on Switzerland
Global Entrepreneurship Monitor 2017/2018. Report on Switzerland
Global Entrepreneurship Monitor 2016/2017. Report on Switzerland
Global Entrepreneurship Monitor 2015/2016. Report on Switzerland
Global Entrepreneurship Monitor 2014. Report on Switzerland
Global Entrepreneurship Monitor 2013. Report on Switzerland
Global Entrepreneurship Monitor 2012. Report on Switzerland
Global Entrepreneurship Monitor 2011. Report on Switzerland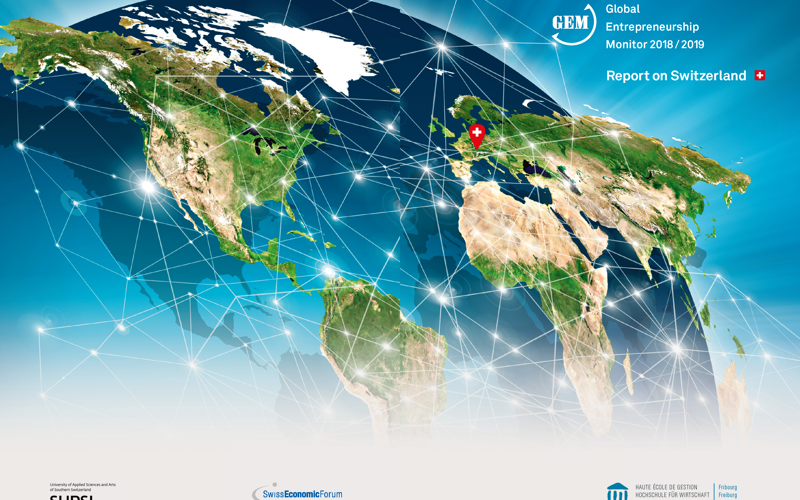 Running time
2009 to ----
Project manager
Dean/Managing Director/Full Professor UAS
Project members
Pascal Wild, Raphaël Gaudart, Gabriel Simonet, Lucia Zurkinden,
Institute/Competence center