05 Jul 2023
The Global Entrepreneurship Monitor (GEM 2022/2023) has highlighted the commendable motivation behind Swiss people wanting to embark on a business venture. To make this possible, it's vital to encourage this type of career and to digitalize services.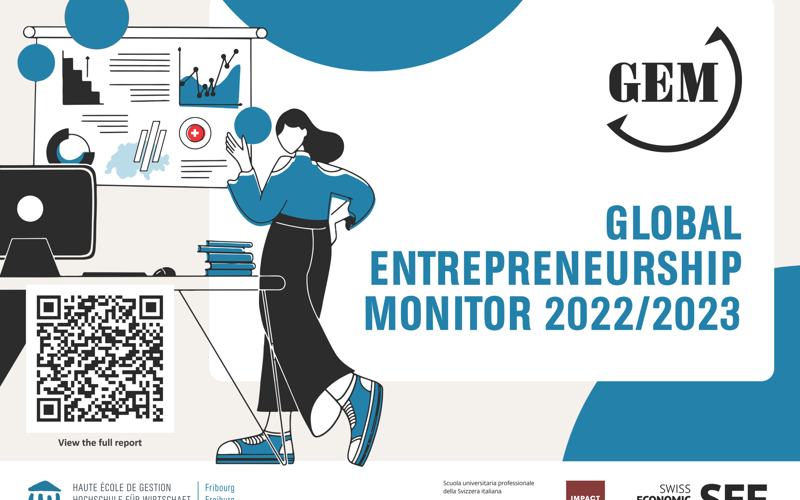 2023 began with a lot of tension and uncertainty: war, high energy costs and of course, the lasting effects of the COVID-19 pandemic. An unstable environment which disrupted the entrepreneurial ecosystem. And yet, opportunities are still there. "In the second half of 2023, trends show that there are solutions, provided you have a bit of audacity and a taste for innovation", says Rico Baldegger, Director of the Fribourg School of Management (HEG-FR) and Team Leader of GEM Switzerland, when presenting the key facts relating to Switzerland from the Global Entrepreneurship Monitor (GEM 2022/2023).
It appears that in Switzerland, making a difference in the world is the main driver for starting a business. With a rate of 57.4%, this is the only criterion higher than the average of countries with a high GDP per capita (Level A, 45.6%). If we look more closely, women selected this criterion more (63%) than men (53.8%). Other motivations are the need to work (47.1%), wealth creation (37.1%) and far behind, the pursuit of a family activity (11.2%).
It's interesting to note that opportunities do not appear in the same way in all regions. Indeed, people living in the German-speaking part identify more opportunities to start a business within six months (54.8%), far higher when compared to the French-speaking (33.2%) and Italian-speaking (11.8%) regions.
Thus, there is still work to be done to promote entrepreneurship as a career choice. Among Level A countries, Switzerland stands at 38.3%, well below the average of 65.1%. Making entrepreneurship more attractive can be achieved above all through education, by increasing programs promoting skills such as creativity and the realization of ambitious projects.
Low rate of digitalisation of businesses
The rate of use of digital technologies in order to sell products is particularly low in Switzerland: 31.9% for companies under 5 years old (average level A, 48.5%). The rate for those over five years of age drops to 20.8% (average level A, 37.9%). "Despite a highly innovative economy, most start-ups in Switzerland are not highly digitally-based when compared internationally", says Pascal Wild, a member of GEM Switzerland.
Global Entrepreneurship Monitor (GEM): 2022/2023: Policy Brief on Cultivating the Entrepreneurial Ecosystem in Switzerland
Baldegger, R., Gaudart, R., Wild, P. (2022). Global Entrepreneurship Monitor (GEM) 2022/2023: Policy Brief on Cultivating the Entrepreneurial Ecosystem in Switzerland, Fribourg: HEG-FR (HES-SO)