Further professional development at HEG Fribourg
Our innovative further professional development programs respond to the current and future needs of companies and society and support training throughout working life.
Aimed at specialists and managers in business and public administration, some of these programs are of a general nature, whereas others enable the participants to specialize in a particular field. The courses are generally organized in cooperation with other schools or with professional associations that are recognized at a Swiss federal level. The classes are led by instructors with sound professional experience and knowhow in training adults.
Lifelong learning is the term used to refer to all courses taken after having obtained an initial training certificate. Further training may involve perfecting professional competences or acquiring new knowledge and skills. An average of 150 participants per year complete these training courses at the School of Management Fribourg, which records around 1000 days of short training courses.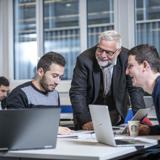 La formation tout au long de la vie est une ressource stratégique pour le développement de l'entreprise
Alfred Münger, Responsable de la formation continue
Our offer in English
The majority of our further professional development courses are offered in French. For this reason, the course descriptions are mainly in French.
The following offer is available in English, or as multilingual program (English/German/French).
Tailor-made or short programs
We offer tailor-made training courses and provide short programs designed for different target audiences, from new business economics graduates to executives in various areas.
Contact us
Continous education's secretariat