Global expertise, a gateway to the world
In Switzerland and internationally, our school is part of a large network of universities, private companies and public administrations. Capitalizing on our prime location at the crossroads of four countries and our trilingual teaching, we also participate in major international projects. All our students develop cross-cultural and linguistic skills that are directly rooted in practice.
The HEG-FR offers various courses (taught in English) for foreign students. To foster intercultural learning, we encourage them to take part in courses at Bachelor and Master levels, as well as in continuing education.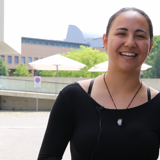 I am excited to bring back the creative thinking of entrepreneurship
Monique Kuhn