From local to global
The School of Management Fribourg encourages worldwide student and professor exchange (inbound and outbound). Get in touch with us for any questions relating to international studies and exchange programs.
Your contacts
Our services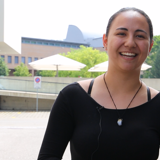 I am excited to bring back the creative thinking of entrepreneurship
Monique Kuhn
Contacts and international agreements
The public-private partnerships we establish with various countries are complementary to our own activities, and are aimed at long-term cooperation. At the moment we are collaborating actively on different levels with the following institutions and organisations:
Americas
Brazil
Universidade Nove de Julho (UNINOVE)
Nova School of Business and Economics (Sao Paulo)
Swissnex Rio de Janeiro
Canada
HEC Montréal
Université du Québec à Trois-Rivières
Mexico
Instituto Tecnologico y de Estudios Superiores de Monterrey (ITESM)
Egade Business School Mexico
USA
University of California Irvine (UCI)
Worcester Polytechnic Institute (WPI)
University of Vermont
Swissnex Boston & Swissnex San Francisco
MassChallenge Boston
Asia
Australia
Swinburne University of Technology
China
Institut de Diplomatie de Pékin 
Swissnex Shanghai
Zejang University
Singapore
Nanyang Techological University

(China Foreign Affairs University, CFAU) 

Singapore Management University (SMU)
Vietnam
Yersin University of Da Lat
Europe
France
University of Lorraine
University of Montpellier
Grenoble Ecole de Management
EM Strasbourg Business School
Germany
University of Trier
Aschaffenburg University of Applied Sciences
International programs
HEG-FR, the School of Management Fribourg, offers various international vocational programmes designed to create an environment that promotes exchange and sharing.
These are available to both HEG-FR and foreign students.