Services and Counselling
International Office
From local to global
The School of Management Fribourg encourages worldwide student and professor exchange (inbound and outbound). Get in touch with us for any questions relating to international studies and exchange programs.
Your contacts
For a mobility start in Europe or outside Europe or to study at HEG:
Andrea Rohrer & Virginie Perotti
Our services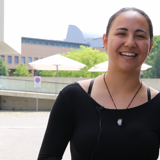 I am excited to bring back the creative thinking of entrepreneurship
Monique Kuhn
International partnerships and collaborations:
The relationships we have established over the years with public and private institutions, in various countries, are complementary to our own vision and mission.
HEG-FR partner universities
Americas
Brazil
ESPM School of Publicity & Marketing
Unisinos University
Canada
As part of the BCI program : 
Bishop's University (établissement anglophone) 
Université Laval ▪ Université de Sherbrooke 
Université du Québec à Trois-Rivières (UQTR) 
Université du Québec à Rimouski (UQAR)
Université du Québec en Outaouais (UQO)
Université du Québec en Abitibi-Témiscamingue (UQAT)
École de technologie supérieure (ETS)
Chile
Universidad del Desarrollo
Mexico
Instituto Tecnologico y de Estudios Superiores de Monterrey (ITESM)
Universidad Nacional Autonoma de Mexico (UNAM)
USA
Asia
Australia
Swinburne University of Technology
India
Japon 
UNITA network
The HEG-FR, member of the HES-SO, is part of the European university UNITA - Universitas Montium.
Europe
Belgium
Ecole pratique des hautes études commerciales (EPHEC)
Cyprus
Finland
Haaga-Helia University of Applied Sciences
France
Université Catholique de Lille
University of Lorraine 
Germany
Aschaffenburg University of Applied Sciences
Italy
Nederlands
HZ University of Applied Science
International programs
HEG-FR, the School of Management Fribourg, offers various international vocational programmes designed to create an environment that promotes exchange and sharing.
These are available to both HEG-FR and foreign students.
Questions ? Contact us