A unique program geared towards multiculturalism
This program is unique, as it is the only Executive Master in Business Administration in Switzerland held in three languages, namely French, English and optionnally in German. We are of the belief that the three major challenges facing the leaders of today are knowing how to anticipate and control change, ensuring continuous innovation within the heart of the company and managing in an increasingly multicultural environment.
This multicultural approach extends beyond the three teaching languages with a study trip abroad.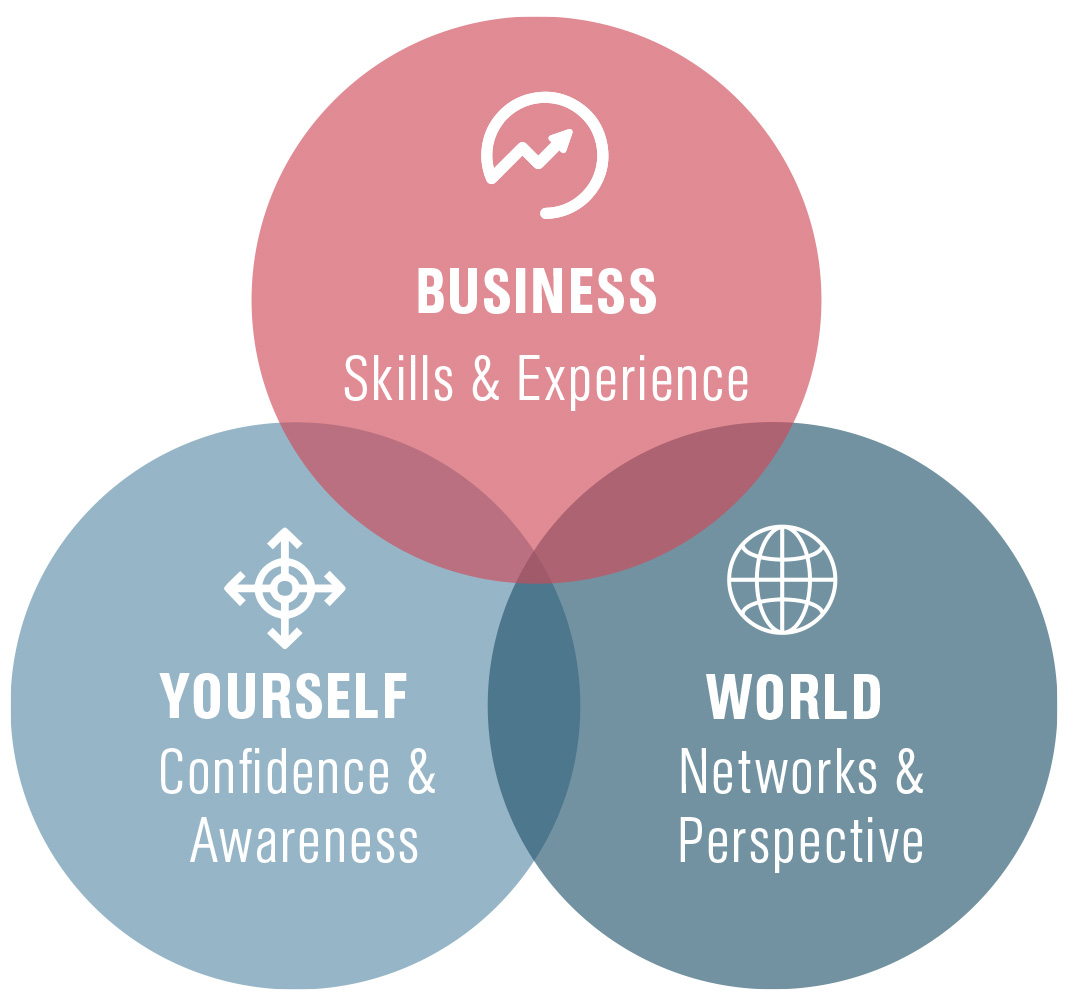 An ambitious program
Market globalisation, a growing environmental complexity, and rapid change are setting new challenges for corporate executives. The future belongs to those entrepreneurs who know how to master new situations dynamically. The School of Management Fribourg has offered an Executive MBA since 1999 to meet these challenges.
The aim of this training is to develop the managerial skills and social intelligence of those taking part in order to successfully prepare them for the new challenges in their professional lives.
Modern and practical teaching
Teaching content is concrete and practical and constantly enriched and adapted to meet the latest evolutions in modern business management. Candidates have the opportunity to apply what they have learned individually and in groups. Numerous case studies and simulations permit participants to measure the consequences of their decisions. Teaching is done in three languages (French, English and German).
Target group
This Executive Master of Business Administration is for persons holding a degree from a University of Applied Sciences, a University, a Federal Institutes of Technology, or with equivalent skills, who would like to deepen their knowledge of business and management.
Partners
The EMBA is based on national and international cooperation, which gives its multicultural and multilingual character. This approach is delivered by a team from various places, including different universities. A two-week trip abroad consolidates the multicultural approach.
Accreditation
The EMBA program has been approved by the AAQ (Swiss Center of Accreditation and Quality Assurance in Higher Education). The degree issued is recognized by the Confederation.
Faculty and lecturers
Those involved in our continuous development courses are recognized for their expertise. Thanks to their experience and the use of up-to-date methods and tools, the training is very much geared towards actual practice.
At a glance
Degree awarded
Executive Master of Business Administration (EMBA) HES-SO​ Integrated Management
ECTS Credits
60
Study duration
18 months
Study start
February 1st, 2023
Study language
French, English and German
Enrollment information
Enrollment is open until December 16, 2022.
Fees
Fees for the EMBA course amount to CHF 34'000.- (including course materials, examination fees and support for the dissertation).
Place of study
HEG-FR, Fribourg
Course structure and organization
The EMBA programme consists of 13 modules within 3 axes and an individual consulting work at the end of the studies. It begins every year and lasts 18 months. Courses are held at the School of Management Fribourg every threeweeks, principally on Thursday and Friday and Saturday morning.
Axe 1 – Yourself : Broaden your leadership skillset
Neuro-leadership - High Performance Teams – Leading in a Sustainable World – Managing High Stakes Negotiations
Axe 2 – Business : Build your Foundations
Data science, machine learning & critical decision making – Digital supply chain – Managerial accounting & Finance – Strategic marketing
Axe 3 – World : Lead in a Changing World
Global Entrepreneurship & Venture capital – Financing disruptive innovation – Growth strategy & Internationalization – Digital innovation & Transformation – Boston Immersion Trip for High Tech Entrepreneurship
Individual Consulting Project
Contact us
Continous education's secretariat EMBA