13 Feb 2023
The first YES (Young Enterprise Switzerland) Pitch Competition was held on 4 February 2023 at the HEG Fribourg. And it was a success: 25 companies led by one hundred young people between the ages of 16 and 20 were present! Thanks to the collaboration between YES and the Innovation Lab, this innovative event was able to fill the Beat Vonlanthen auditorium of the HEG-FR. A look at the event...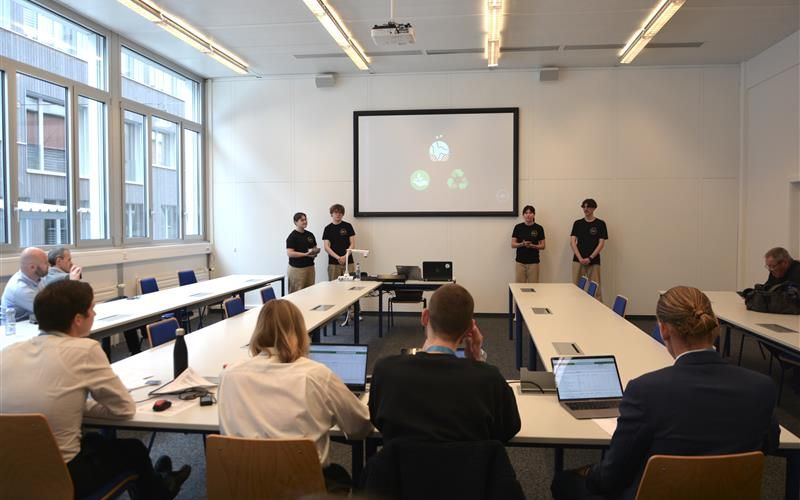 Every year, more than 1,000 students from Swiss gymnasiums and professional schools set up their own businesses as part of the YES Company Programme. "Learning by doing" is the motto of this non-profit organisation which enables young people to integrate entrepreneurship into their education.
It is from Fribourg and the Innovation Lab that YES pilots the next generation of entrepreneurs in French-speaking Switzerland. And this new generation of entrepreneurs is more motivated than ever: the Company Programme is attracting more and more young people in the French-speaking part and its impact has increased by six times in 3 years! The HEG-FR is pleased to have been able to support this development by hosting the very first Pitch Competition in the Western region.
The event may be new, but the programme in which it takes place is already well-established in Switzerland. Entrepreneurs from the French-speaking part of Switzerland must stand out from more than 200 teams throughout the country. Once the Pitch Competition is completed, all the focus is on Zurich and the next stage of the competition: a competition fair bringing together the best of these companies. Stay tuned to the YES website or over a coffee at the Innovation Lab!