07 Jan 2019
Le nouveau HEG-Magazine « The spirit of banking » est maintenant disponible ! En format PDF sur le site de la HEG et en format papier dans le bâtiment de l'école. Vous pouvez également retrouver toutes les anciennes éditions sur le site de la HEG.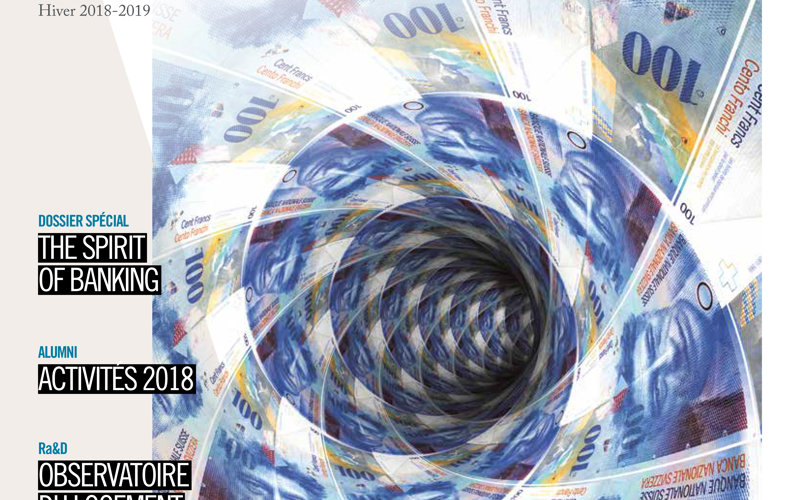 The future of banking
L'avenir des services financiers suscite actuellement de vives discussions en Suisse. Le secteur financier est incontestablement en pleine évolution – la crise financière n'en est pas l'unique raison – et des efforts doivent être consentis pour accroître la capacité d'innovation et d'adaptation du secteur. Les innovations telles que les cryptomonnaies, les différentes options de crédit et les modèles de prévoyance professionnelle remaniés ne sont que les signes précurseurs de changements parfois rampants, parfois fulgurants. Une étude menée par EFMA & Deloitte révèle la manière dont les acteurs de l'industrie de la finance se réorientent: 37% explorent la blockchain pour développer de nouveaux modèles ou idées d'affaires et des start-up, 20% le font pour des raisons de coût et d'efficience, 16% veulent comprendre le «hype», 13% redoutent la disruption, 11% en raison de pressions concurrentielles et 2% craignent la fintech. La Suisse occupe une place centrale dans le domaine de la finance et son potentiel d'innovation reconnu devrait lui permettre de tirer pleinement avantage de la fintech.
On essaie aujourd'hui de rattraper un certain retard, parfois sous l'impulsion de projets internationaux. Dans cet élan, plusieurs organisations ont vu le jour: Swiss Crowdfunding Association, Swiss Fintech Innovation, Bitcoin Association Switzerland et Swiss Finance Startups. Wealthtech, Security, Crypto et Insurtech: ces domaines clés sont au centre de la scène fintech suisse. Pour résumer, la Suisse, en tant que centre financier de l'Europe, n'a pas encore suffisamment tiré profit de sa capacité d'innovation et de son savoir-faire en matière de services financiers. En tant que haute école, nous sommes prêts à apporter notre contribution par le biais de la recherche et de l'enseignement. Nous investissons dans des projets de recherche, dans la coopération nationale et internationale et nous nous efforçons d'offrir aux étudiants une préparation optimale au futur du secteur bancaire, conformément à notre philosophie «Create your future».
Magazine HEG-FR N° 7 - Janvier 2019 - The spirit of banking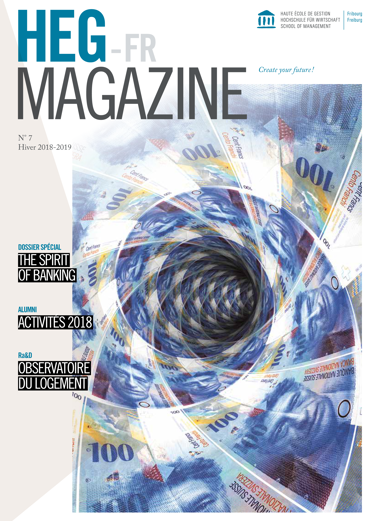 Intéressé-e ?
Le magazine de la Haute école de gestion Fribourg (HEG-FR) donne à ses lecteurs et lectrices des informations sur la vie HEG-FR, informe sur l'enseignement et la recherche et propose des rapports, des reportages, des nouvelles et des interviews de personnalités du monde politique, culturel et économique. Continuez la lecture et découvrez toutes les éditions sur la page du HEG Magazine.