09 May 2019
With the first digital era coming to an end, the Employer Association for the Canton of Fribourg (UPCF) and the School of Management Fribourg (HEG-FR) have joined forces to support Fribourg SME through this transition. The FriDigital4PME project, which was born from this new collaboration, aims to suggest concrete measures to the companies in the canton, This evening, around one hundred entrepreneurs took part in the first event dedicated to the challenges of digitalisation for Fribourg SME.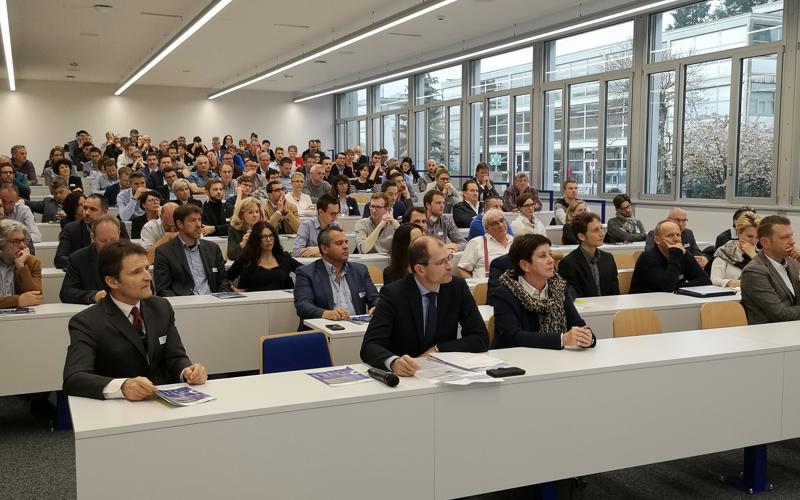 In early 2019, UPCE and HEG-FR launched the first campaign of their shared project by sending out a survey to Fribourg SMEs, members of the umbrella association for the canton. The questions aimed to understand both the environment in which the companies were working and also their perception of the issues relating to digitalisation and their requirements. 266 businesspeople aged between 27 and 75 and employing between 1 and 250 people completed the survey. During the FriDigital4PME event that day, the results of the survey and the measures taken by UPCE and HEG-FR were presented to the around 120 businesspeople present. On this occasion, three entrepreneurs also spoke about their own experience of the digital revolution within their own companies.
Digitalisation is a major challenge for the SMEs of Fribourg
The results of the survey demonstrate that the digital revolution is a key issue for the majority of the companies surveyed. Various areas of activity, from administration and management to production, sales and purchasing, are all directly affected by digitalisation.
Despite the key importance of this topic, numerous Fribourg SMEs reported obstacles in the implementation of digitalisation projects. These are largely due to the investment approval or a lack of skills or time.
In order to alleviate this situation, the new collaboration between UPCF and HEG-FR aims to provide customised services. For example, these two bodies will be offering a wide range of short, modular continuous professional development courses at rates tailored to companies of all sizes. The other measures presented included a digital strategy check for the companies and access to specific information on an online platform. HEG-FR is also interested in reinforcing its collaboration with Fribourg SME by designing training to meet specific demand.
In the future, other measures will evolve in different forms. Based on these initiatives, UPCF and HEG-FR hope to be able to better support and accompany Fribourg SME on the route towards the digital revolution.