Management and Organization
The School of Management Fribourg is managed by a school director, who is supported by deputy directors. The school director is responsible for his or her school as a whole and in particular, for the school's budget and finances, the fulfilment of FH tasks and the school's strategy. He or she is supported in this task by members of the school council.
Prof. Rico Baldegger, PhD, has been Director of the School of Management Fribourg since 1 May 2013.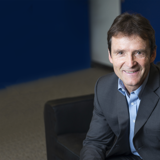 There is no other offer like ours in the Swiss market – the combination of trilingualism and a practical focus sets us apart.
Rico Baldegger - Director of the HEG-FR
Contact us