17 déc. 2018
The School of Management of Fribourg (HEG-FR) in collaboration with the Saint-Joseph University organized the "Using technology towards a better humanitarian aid" event held on 17th and 18th December 2018 in Beirut, Lebanon.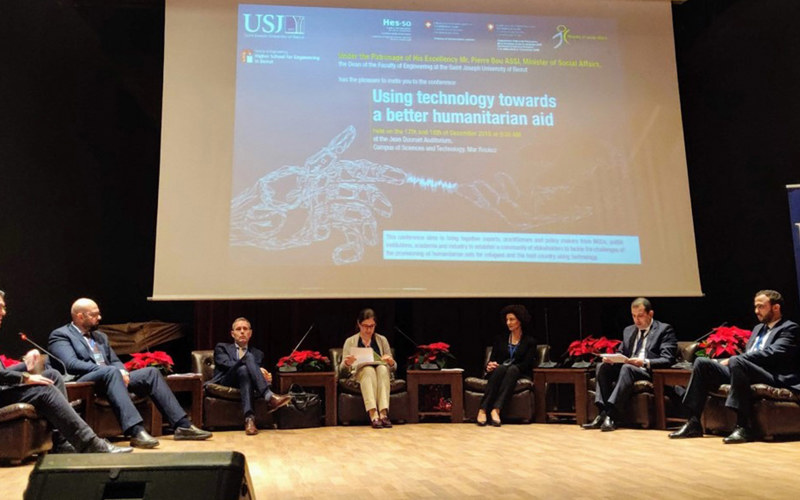 This event included a main conference and three workshops, which aimed to bring together experts, practitioners and policy makers from NGOs, public institutions, academia and industry to establish a community of stakeholders to tackle the challenges of the provisioning of humanitarian aids for refugees and the host country using technology. 
At the end of these sessions, a new international working network has been founded for the MENA region and a first strategy for the replication of the SMSer experience in other countries has been defined. The coordinator of the Middle East area is the Saint-Joseph University, while the coordinator for North Africa is the Hassan II University of Casablanca. Furthermore, some possible collaborations were established to run the pilot tests in Lebanon of the software for the management of humanitarian supply chain for medicaments developed in the SMSer project. 
This conference was part of the SMSer project where the School of Management Fribourg, the College of Engineering and the School of Health in Fribourg collaborate with the Saint-Joseph University, funded in the "Entrepreneuriat et technologies appropriées" program. The event was funded by the State Secretariat for Education, Research and Innovation of Switzerland through the Leading House for MENA region, Saint-Joseph University of Beirut and University of Applied Sciences and Arts Western Switzerland (HES-SO). Moreover, this event received the patronage of the Ministry of Social Affairs of Lebanon and a financial support by the Embassy of Switzerland in Lebanon.
The next meeting of the International Working Network of Technology for Humanitarian Aid for the MENA region will be held in June 2019 in at Hassan II University of Casablanca, Morocco.​