19 sept. 2023
The HEG-FR, representing the SwissMoves association, had the honor of hosting a gathering for the members of the Swiss Association of Autonomous Mobility (SAAM) at the Innovation Lab jointly operated by HEG-FR and Bluefactory. This exciting event, which took place last Friday, featured presentations highlighting the latest developments and projects in the field.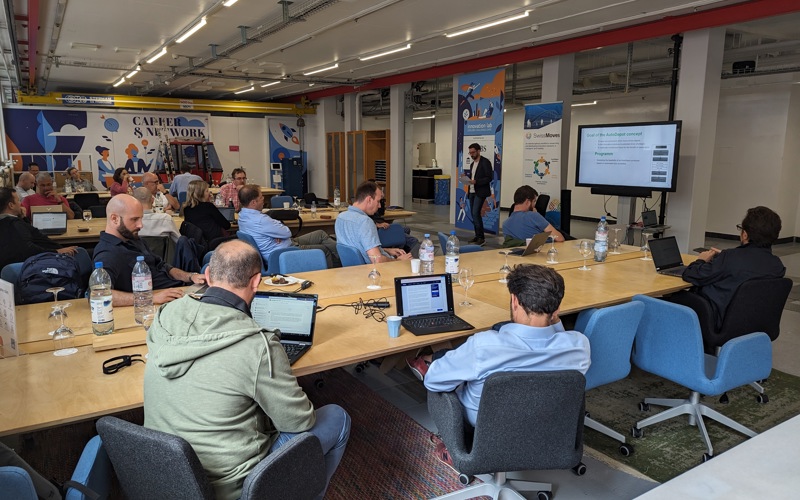 SAAM plays a pivotal role in advancing autonomous mobility by bringing together key stakeholders in the sector and fostering collaboration to usher in innovative technologies and mobility solutions. The School of Management Fribourg, through its Digital Business Center and in collaboration with SwissMoves, actively contributes to this mission. HEG-FR is dedicated to addressing the societal implications and public acceptance of autonomous vehicles, working diligently toward shaping the future of mobility. Maurizio Caon, the leader of HEG-FR's Digital Business Center, spearheads efforts to raise awareness about autonomous vehicles and conducts research on sustainable implementation methods that promote public acceptance.
During this insightful event, Patrizia Portmann, the Head of the Regulations for Road Users Section at FEDRO, and Jeroen Beukers, an Innovation Expert at TPG, shared their experiences from their visit to San Francisco, where they engaged with major players in the autonomous mobility sector, including Waymo, Wayve, Cruise, WeRide, Apollo, and others.
The day continued with a workshop on Regulation & Technology, led by Thomas Probst from SwissMoves. In the afternoon, Marc-Antoine Fenart presented the Autodepôt project, funded by the OFT, while Maurizio Caon discussed the ongoing systematic review on technology acceptance in autonomous mobility pilot studies.
The event concluded with updates from all the ambition leaders. Furthermore, attendees had the unique opportunity to witness multiple demonstrations of autonomous and teleoperated vehicles, which were skillfully conducted by ROSAS and LOXO at the Bluefactory facility.